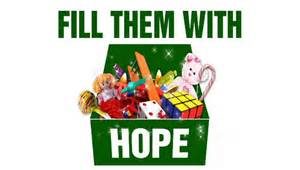 Pembroke Pentecostal Tabernacle is the Pembroke area distribution and collection centre for Operation Christmas Child.
Shoe Box Collection Sunday for PPT is November 12th.
PPT's congregation is asked to bring all filled shoe boxes to the morning wor
ship service.
Shoe Box Collection week is
This is the week that all ministries in the Pembroke area bring their filled
so our team can put all the boxes in crates and get them ready for shipment.
For more information on Samaritan's Purse, Operation Christmas Child and how to fill a shoe box visit their website.