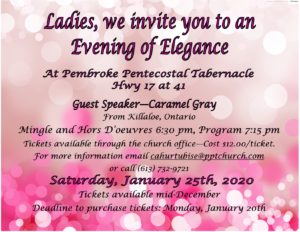 Ladies, we are excited to invite you to our 6th Evening of Elegance. This event gives us an opportunity to love on the ladies of our community and show them the love of Jesus.
Our guest speaker is Caramel Gray. Caramel is a passionate follower of Jesus Christ and has a heart for the lost and broken, by helping them to see their true value and worth in Him. She is the wife of Pastor Thomas Gray and together they currently serve at Grace Evangelical Missionary Church in Killaloe, Ontario and as Associate staff with FamilyLifeCanada, a division of Power to Change. They have served in both the States and Canada in various pastorates. They have been blessed with eleven children. Additionally, Caramel is also a former nurse and a graduate of Women's Ministry Institute with Heritage College and Seminary in Cambridge, Ontario. She loves to share the Truth of God's Word and sharing the Gospel and seeing people come to faith in Christ is her greatest joy in life.
An Evening of Elegance will be held at Pembroke Pentecostal Tabernacle on Saturday, January 25th, 2020. Mingle and Hors D'oeuvres begin at 6:30 pm, program begins at 7:15 pm.
Please remember

this not a meal but rather an evening of finger foods and friendship. An evening to be served and enjoy yourself.
Tickets are $12.00 each and may be purchased through the church office. The deadline to purchase tickets is Monday, January 20th. Tickets will be available to purchase mid-December.
Tickets will not be available at the door, they must be purchased in advance.
Childcare is not available for this event.
If you can't make it into the church office to purchase your tickets that is not a problem. Print off the mail in form below and mail in your ticket order along with payment and we will have your tickets waiting for you at the door.