Our Wednesday night KIDS Clubs is a "life changing club for boys and girls!" designed for all kids JK–Grade 5. This fun-filled weekly program is designed to lead boys and girls to Jesus Christ and help them discover His love for them! Activities include games, crafts, Gym time, bible memory, lessons from the Bible, and so much more!
VISIT OR CONTACT US…
PPT KIDS CLUB
facebook!
For more information contact Danette Liedtke – Children's Pastor at: dliedtke@pptchurch.com or 613-732-9721.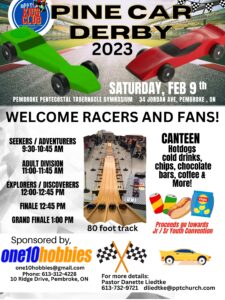 PINE CAR DERBY 2024 – Get Ready To Start Your Engines…
PPT KIDS CLUB RACE DAY – Saturday, February 9th

link to registration coming soon!

There will be NO COST this year thanks to our Sponsor, one10hobbies, Pembroke who are providing us with all the car kits and trophies.
KIDS: Each child will receive their pre-cut pine car at PPT KIDS CLUB and we will paint and prepare them together – just show up on race day (see poster for schedule)
ADULTS: Cars are on their way and available for pick up on Wed nights at KIDS CLUB. (We will let you know when they arrive)
*If you prefer to cut and shape your own car please let us know and we can give you an 'uncut' car kit.
CANTEEN will be open and run by the PPT Youth and proceeds will go towards their convention.
Any questions please feel free to contact, Pastor Danette Liedtke 613-732-9721 or dliedtke@pptchurch.com